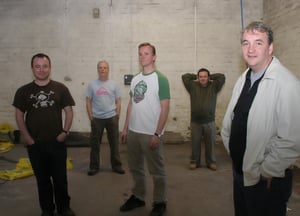 £

4.00 - On Sale
NEW PRICE!! £4.00 advance or £6.00 on the door
Tickets for gig on Saturday 5th November 2011 at The Bowery, 36-38 New Oxford Street, London, WC1A 1EP.
Rare London gig from the stars of the legendary indie label Sarah Records, the label also responsible for The Field Mice and Heavenly, and now of new label Pebble Records. The Orchids formed in the mid 1980s in Penilee, near Govan, in South Glasgow, and released two full-length studio albums plus a string of EPs and singles. The band returned in 2007, releasing the "Good to be a Stranger" album on the Madrid label Siesta, and resumed live shows with a breathtaking performance in London that year for Fortuna POP!. as well as headlining Indietracks Festival. Pop in its purest and most engaging form they are heralded as paving the way for artists such as Belle and Sebastian and Trash Can Sinatras as well as drawing comparisons with contemporaries such as The Go-Betweens and Felt. The band's 5th album "The Lost Star" has recently been released by Pebble Records to critical acclaim and a new 7" vinyl single "The Way That You Move" is also available.
"The best Scottish pop band since Orange Juice" – Melody Maker
"A blissful mix of the best Scottish bands of the last few years" – NME
Pocketbooks are a pop band from London, combining melodic boy/girl harmonies, spiralling guitars and delicate piano lines. Expect a sprinkling of dazzling 60s soul alongside some sparkling indiepop charm! They first introduced themselves to the world by appearing on the 2006 compilation 'The Kids At The Club' (How Does It Feel To Be Loved?) alongside indiepop favourites such as Voxtrot, I'm From Barcelona and Lucky Soul. Since then, they've played gigs across the country, including headlining the first ever Indietracks event on a 1950s steam railway in Derbyshire in April 2007. This event has now turned into an annual two-day festival each July, which several of the band now help to organise. They've played shows with some fantastic bands, including The Pains Of Being Pure At Heart, God Help The Girl, Art Brut, Fanfarlo, The Wedding Present, Darren Hayman and Monica Queen.
Doors 7.00pm Curfew 11.30pm